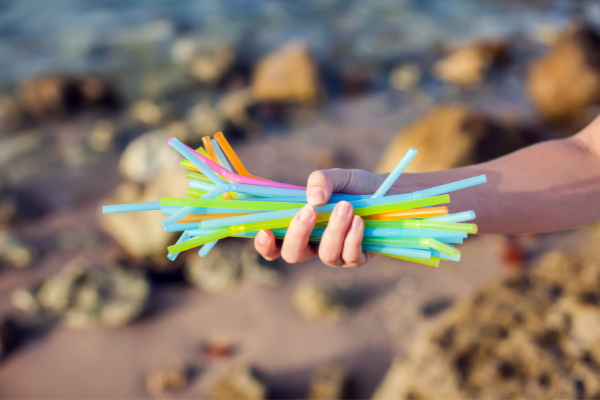 Plastic products, like straws, are made with a variety of potentially toxic chemicals; and cause distinct risks to human health at varying stage of its lifecycle from production to usage to disposal.  Cases of cancer, reproductive and developmental toxicity, low birth weight, and impairment of the immune system are among the reported effects to health. 
Chemicals used in plastic drinking straws create and release toxic industrial wastes in the air from manufacturing stage known as hazardous air pollutants (HAPs). HAPs are associated with harmful health effects, including cancer and reproductive issues as microplastic particles and hundreds of toxic substances are inhaled or ingested during production
Consumers can get exposed to chemicals leaching from plastic drinking straws into their drinks.  And even after they are used, their disposal releases toxic substances including heavy metals such as lead, mercury and acid gases that goes to the air, soil, and water causing both direct and indirect health risks to workers and nearby communities. 
Microplastics, which enter the human body directly and lead to an array of health impacts (including inflammation, genotoxicity, oxidative stress, apoptosis, and necrosis) that are linked to negative health outcomes ranging from cardiovascular disease to cancer and autoimmune conditions;