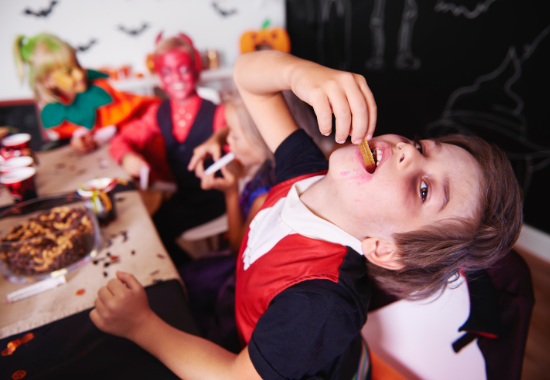 While a small amount of Holloween sweets is not going to break your child's weight or your dental bill instantly, his trick-or-treat adventure may bring a week's worth of candy bars, if not more.  During this sugarloaded time of the year, the average child consumes about three cups of sugar or 144 teaspoons of sugar.  Now that's a lot of sugar! 
You cannot control what your kids will get from trick-or-treating, some candies contain tons of sugar more than other candies.  Check their goodie bags and choose those which contain less sugar like dark chocolates, which are also a good source of antioxidants.  Protein in nutty bars delay the absorption of the chocolate bars, while yummy peanut butter cups, at least, have peanut butter. Lollipops take a while to consume and distract your kids from munching on other candies and chocolate bars.  
Although it happens just once a year, heavy consumption of sugar is still bad for your kids' health.  And while you don't want your kids to miss this fun day, these helpful tips on how to recover from a sugar hangover may be worth remembering before you let your kids dive into the most sugar-loaded holiday of the year.